Content Area
Introduction to Business - General Business Administration - Business & Economics
---
Connect® for Introduction to Business
McGraw Hill Connect is an award-winning digital learning solution that enables students to attain better grades and allows instructors to improve course management. Connect Introduction to Business provides an adaptive learning tool that help students target what they know and what they don't know, while end-of-chapter problems provide challenging practice sessions.
Connect for Introduction to Business Features
SmartBook
SmartBook 2.0 personalizes learning to individual student needs, continually adapting to pinpoint knowledge gaps and focus learning on concepts requiring additional study. For instructors, SmartBook tracks student progress and provides insights that guide teaching strategies and advanced instruction, for a more dynamic class experience. 
Application-Based Activities
These highly interactive, automatically graded exercises provide students a safe space to practice using problem-solving skills to apply their knowledge to realistic scenarios. Each scenario addresses key concepts and skills that students must use to work through and solve course-specific problems, resulting in improved critical thinking and relevant workplace skills.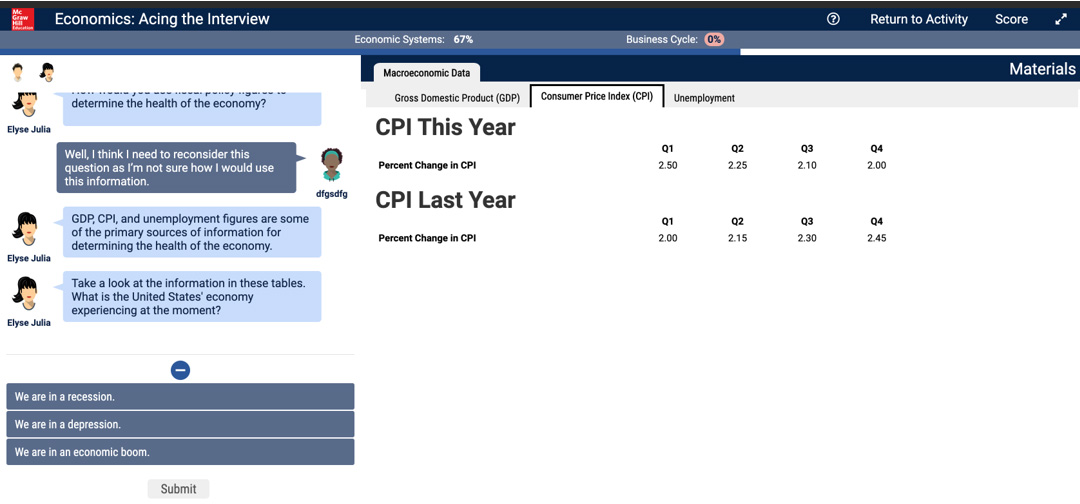 iSeeIt Videos
Short, contemporary videos provide engaging, animated introductions to key course concepts. Perfect for launching lectures and assigning as pre- or post-lecture.
Writing Assignment Plus
Writing Assignment Plus delivers a learning experience that helps students improve their written communication skills and conceptual understanding. Faculty can assign, monitor, grade, and provide feedback on writing projects efficiently. Built-in grammar and writing review help students improve writing quality while an originality check helps students correct potential plagiarism before submission. Click the video below to learn more.
From the News to the Classroom Blog
Create an ultra-current course with content that is updated multiple times each week and includes abstracts of relevant news stories, videos tied to chapter topics, and critical thinking questions.
Connect Reports
Connect offers customizable reports on student performance, learning outcomes, at-risk students, and integrates easily with LMS gradebooks.
Connect Master
Connect Master: Economics, the first digital-first approach for principles of economics, is the ideal way to engage today's students and growing across all different types of course formats- traditional, online, flipped and hybrid. 
Authors Carlos Asarta and Roger Butters offer the same core content covered in mainstream textbooks, but instead of lengthy, narrative-driven chapters, content in Connect Master: Economics is organized into over 250 accessible topics, each anchored by an engaging 2-4 minute professionally-produced video and supported by a host of dynamic learning resources. 
The result is an immersive experience that is flexible, innovative, and aligned to how today's students learn and obtain information.